Air Conditioning Tune Ups In Atlanta, GA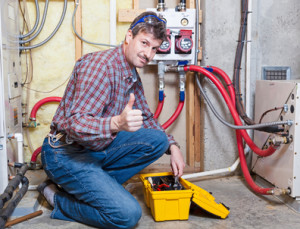 Air conditioning tune ups in the Atlanta, Georgia area are important for homeowners who want to ensure their units last long and stay in good repair.
Residential homes in the area have been fitted with central air conditioning units that keep our homes cool in the summertime. These systems generally contain two main parts, the indoor unit and the outdoor unit.
The outdoor unit is part of the main air conditioning and most often heating system and is called a condenser. Inside the condenser you will find many moving parts that include a motor, or compressor, which work together with the indoor unit to cool the air in your home during warm conditions.
The condenser plays a major role in cooling off your home. It's one of the main parts that do most of the hard work for the system. And it's one of the main reasons your air conditioner needs repair when there's a problem.
One reason for this is because it's exposed to the sun's heat and other weather conditions that require it to output consistently. It has to work harder than the indoor unit because when it isn't working right, all the other parts of the system are affected.
The condenser is normally installed when the home is built, but older homes that don't have central air can have them installed. The outdoor unit will most likely be permanently and securely attached to a concrete slab, though sometimes it is wooden. Either way, it should be fixed securely so it won't get thrown over by a heavy wind or object.
It should be raised off the ground to protect the structure from wet soils and more, and all foliage should be kept away from the unit at all times. Any type of debris or obstruction can damage the unit or can keep it from being able to transfer air efficiently. It should be cleaned regularly and all moving parts oiled so they function properly.
This means that at least twice a year, a service professional should give the unit a tune up and check up. Doing this not only keeps everything operating smoothly, it also prevent potential problems that could end up costing more to fix or replace. Just dust on the condenser unit can cause poor air circulation, which translates to more stress on the unit.
The more stress you have on an air conditioning unit, the more likely you are to face more expensive repairs, and the more likely your unit will need replacing sooner than it should. A tune up can prevent your air conditioning problems and can keep you informed of what to expect of it in the near future.
Maintenance plans can ensure your air conditioner functions properly throughout the season. There are many steps taken during and air conditioning tune up that will ensure your unit stays in good repair. By year end, you could actually be saving money when this important preventative measure is a part of your home's maintenance plan.
For information on Air Conditioning Tune Ups in the Atlanta, GA area, just give us a call at the number below and our expert HVAC technicians can go over your options with you.
If you are looking for air conditioning & heating experts in Atlanta then please call 678-574-5009 or complete our online request form.