Professional HVAC Service in Ball Ground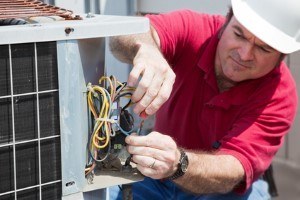 Champion Air Systems is a full service heating and air company that provides comprehensive service for homeowners in Ball Ground and the surrounding North Central Georgia area. We specialize in residential heating and cooling systems for all types of homes both large and small. Our services range from full system and equipment installation, to complete repairs and restoration, and even ongoing maintenance and tune-ups. Put our state licensed and certified technicians to the test and let us help your all your HVAC needs today. You'll be glad you did!
Heat Pump Repairs
The heat pump is a crucial part of your entire Ball Ground heating system as it transforms cold air into hot air and delivers it to your furnace and then into your home. So when your heat pump goes out, you can no longer depend on your furnace to produce hot air. This can create emergency situations for families in Ball Ground during the winter time. If your heat pump has broken down let us help you get it up and running again. We can perform all repair or even replace your old heat pump with a brand new heat pump. We can perform all repairs in no time at all so that you don't have to wait to get heat back into your home interior.
Furnace Repairs
Our furnace repair technicians are the can provide you with highest level of quality repair service anywhere in Ball Ground. We are are known for reliable, efficient heating solutions that will provide you with home comfort for years to come. We proper repair you can feel confident that your home furnace will provide you with long term warmth throughout even the harshest of winters. By utilizing the latest, most advanced equipment and technology, our heating contractors provide superior services to ensure your heating system's efficiency. When you decide to repair your furnace, will more than pay for itself. We not only repair the causing problem, but we make sure it's running at its optimal state.
Heating & Air Conditioning Installation
One of the most important investments you'll make in your home is a brand new HVAC system. Modern heating and cooling units offer a wide range of features and accessories that help you set the right temperature in your home in a manner that is efficient and cost - effective. We install all types of heating and cooling system and can custom design the right model for your home. So whether you have a small one floor home or a multi-level home with a more complicated floor plan, you can get the perfect system that will effectively cool or heat every room in your home.
Complete Repair Service
Whether it's the hot summer or the dead of winter, the last thing you want is for your heater or air conditioner to go out leaving your family exposed to the extreme temperatures. So when you need fast service that you can depend on, contact Champion Air Systems. Our qualified technicians have repair hundreds of air conditioners for homeowners across Ball Ground. We offer a full inspection of your system in order to determine all the issues, and then give you practical solutions on how best to fix them. We can fully restore your Ball Ground HVAC system back to new and have it up and running again.
If you are looking for air conditioning & heating experts in Ball Ground then please call 678-574-5009 or complete our online request form.