Jasper Heating & Air Conditioning Professionals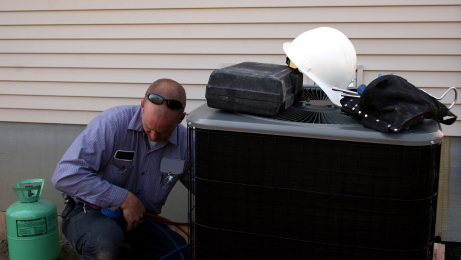 Champion Air Systems has been serving the Jasper area and all of its people since 2001, and in that time we have established ourselves as a company that takes pride in its work and never leaves a job unfinished. We started out in the business by installing central heating and air conditioning systems in newly constructed homes, and over the years, we have expanded our business to include a wide variety of different HVAC services to better take care of our customers and their needs. At Champion Air Systems, we have an unmatched commitment to excellence that sets us apart from all of our competitors.
Champion Air Systems is a full-service Jasper air conditioning and heating contractor, and we offer maintenance, repair, and installation services to all of our residential and commercial customers in the local area. With our wealth of experience and our knowledge of all the newest and most up-to-date technology in the industry, we are able to install, repair, and maintain any heating or cooling system on the market today. When you hire our team of professionals, you can be sure that you are getting the best there is to offer in quality, long-lasting work, excellent customer service, and competitive pricing for your heating and air conditioning needs. Call us today to schedule your appointment.

Jasper Air Conditioning Repairs
All of our skilled and experienced Jasper air conditioning technicians have the right tools and the knowledge to repair any make or model air conditioning unit they encounter quickly and effectively, so you can rest assured that even if your air conditioning unit is a dinosaur, our team of professionals will be able to get it up and running again in no time. When you want your home to be cool again quickly, the skilled professionals at Champion Air Systems are the air conditioning repair experts you can rely on.
If the damages to your air conditioning unit are too extensive to repair, there's no need to worry. Our team of Jasper air conditioning specialists can replace your old, broken unit with a brand new, energy efficient replacement. We carry a large variety of replacement options from the top manufacturers in the country, and we can help you find the perfect system to suit your home and your budget.

Jasper Indoor Air Quality Specialists
The quality of the air inside your home isn't something most homeowners give much thought to on a daily basis, but since almost 90% of our time is spent indoors, perhaps it is something that deserves a little more of our attention from time to time. Even if you have a smoke-free home that you keep tidy on a regular basis, you are still at risk for poor indoor air quality. Over time, the small dust, dirt, and pollen particles circulating in your house can build up inside your air ducts, which means that these kinds of particles are constantly being circulated through your house, where you and your family are continually breathing them in for hours and hours at a time. These particles can increase allergy symptoms or even cause respiratory diseases. Here at Champion Air Systems, we offer a variety of different pollution filtering options for our local customers. Air cleaners and air purification systems can help control the level of air pollution in your home, and decrease your exposure to airborne pollution in the home. Air filters and other indoor air products are designed to filter out contaminants, ensuring that you HVAC system is pumping the cleanest air possible throughout your home.

What JasperHomeowners Are Saying About Us
Champion Air Systems, Inc is Rated: 5 / 5
based on these 1 happy customer reviews.
---
"Today, Adam Fuller, a technician from Champion Air Systems visited our home and replaced a dual capacitor in 1 of our air conditioners; honestly, Adam was the epitome of professionalism. Adam was very respectful of our home, extremely knowledgable and answered all of our concerns….he even has a sense of humor ! This is truly a awesome company that understands Customer Service! I highly recommend them for your Air Conditional and Heating needs!"
---
If you are looking for air conditioning experts in Jasper then please call 678-574-5009 or complete our online request form.