Furnace Repair in Atlanta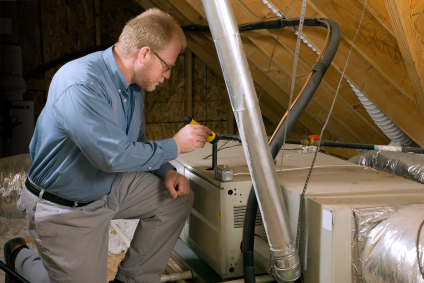 Our HVAC Contractors are the #1 choice for furnace repair. The heating contractors at Champion Air Sytems are known for reliable, efficient heating solutions that will provide you with home comfort for years to come. Repairing your furnace will provide continual comfort throughout even the harshest of winters, and you can rest assure that our furnace repairs will last you for years to come.
By utilizing the latest, most advanced equipment and techniques, our heating contractors provide superior services to ensure your heating system's efficiency. When you decide to repair your furnace, will more than pay for itself. We not only repair the causing problem, but we make sure it's running at its optimal state.
The furnace repair experts at Champion Air Systems will assess your furnace and offer the best solutions for repair. We arrive at your home with stocked vehicles and furnace technicians who are skilled in providing the most dependable heating services whenever you need them.
Champion Air Systems, Inc. Proudly Services All Brands!
Our Furnace Repair Includes the Following Detailed Services
Furnace Repair
Electric Furnaces
Furnace Repairs
Furnace Installation

Heating Repair
Gas Furnaces
Leaking Furnaces
Gas Furnace Repair

New Furnace
Furnace Maintenance
Central Heating
Furnace Replacement
Finding affordable, quality furnace repairs in the Atlanta area is easy when you come to Champion Air Systems Inc! We offer the best in furnace repairs for all customers in the Atlanta area, just as we've done since 2001.
Our technicians have a reputation for being well educated, top notch professionals who can make repairs on any type of furnace system you may have.
You'll have honest, reliable technicians who can and will take great care of your home's furnace no matter what type or make/model of equipment you may own. Whether it's gas fed, electric operated, or a boiler system, we can repair your furnace efficiently and effectively.
Quality Furnace Repairs
At Champion Air Systems Inc, we work with top quality furnace manufacturers for all replacements. If your furnace can't or shouldn't be repaired but needs replacing, don't worry because we can also give you the best deal in quality product coupled with expert installations.
With our respectable background in the community, you'll never have to worry about shoddy work or being told you need something you don't. Plus, we work with these following Quality Furnace Manufacturers so you know you're getting quality all the way around: Amana, Trane and Lennox.
If you are looking for Furnace Repairs experts or Boiler Repair and Furnace Maintenance in Atlanta then please call 678-574-5009 or complete our online request form.